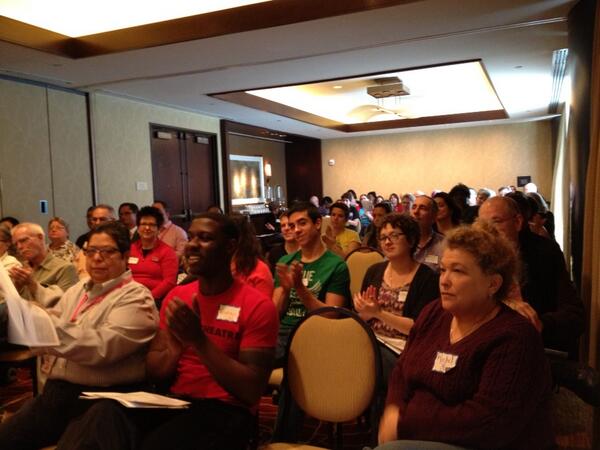 Officially Creating Change 2014 isn't starting until January 29, but yesterday was the first day of Creating Change Houston action for me, the Host Committee and the 600 local peeps who showed up at the Hilton Americas downtown for our mandatory training day.
We had a choice of one hour sessions starting at 12 noon and running until 6 PM. I and my fellow Racial Diversity committee member Keciana chose to get our shift out of the way early.
Keciana and I got up on this beautiful 70 degree Sunday morning and after she picked me up we headed downtown to the Hilton Americas Hotel.
After being greeted by one of our co-chairs Cristina Gorczynski in the hotel's cavernous and opulent lobby I was surprised to run into Congressman Al Green (D-TX) and one of his aides. We chatted for a few moments as he asked me how my mom was doing. I also took the opportunity to briefly tell him about the nine month drama I had getting my TDL before Keciana and I headed upstairs to Room 343.
After we found a pair of seats our seats and greeted many of our fellow Host Committee member who also had the same idea of getting it out of the way early, we found ourselves in Room 343 on the massive hotel's third floor to be greeted by Sue Hyde, Russell Roybal and the gang from CC National.
After the room filled up Sue proceeded to give us some background on the conferences origins, proclaim the Houston Host committee the best ever
At the overview the four House Captains, Adam Wexelbaum,Colin Lovell, Alex Breitman and Rich Mohn took groups of us on a tour of the spaces in which 4000 of our LGBT will soon be roaming in less than 72 hours. The tour ended with each group being steered toward the the room where you could sign up for your shifts and the volunteer jobs you wished to do during the conference.
Oh yeah, we now know the dates for Creating Change 15 in Denver. It'll be February 3-8, 2015, so if you're bummed you had to miss this record breaking one in H-town, get your schedule and ducks in a row for next year. Our friends in Colorado will be glad to have you at their event.
But back to talking about CC14 Volunteer Sunday
I signed on the dotted line last April when I showed up for the Host Committee meeting at the Montrose Center, and I'm already going to be a busy girl during this conference in addition to my Racial Diversity Suite supervisory duties. I have a meeting for that on Wednesday afternoon, so I left the volunteer signup to all the eager people who want to take part on one level or another in making this the best Creating Change event ever.
So mine and everyone else's Creating Change week has started. Looking forward to seeing how the rest of this week plays out.