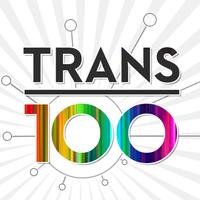 It was a tremendous honor for me to be nominated for and eventually be selected to become part of the inaugural list of honorees for the
Trans 100 List
Time flies, and it gives me great pleasure to announce that the nominations period for the 2014 Trans 100 List is now open!
So start thinking about and nominating the people in your area who are active, out and proud trans people, and deserve the recognition for their stellar work to benefit the trans community.
And for you international trans folks not in the USA who wondered why there were no deserving international names on the 2013 Trans 100 list, here's an announcement concerning
what y'all need to do
to set up your own Trans 100 List to honor the people doing the work in your respective nations in 2014
So yes, looking forward to see who makes the 2014 Trans 100 List here in the States and hopefully see lists from Canada, Great Britain, Australia, Asia-Pacific Rim, Europe, Africa, South America....
***
This form is to collect nominees for a list of 100 trans activists currently working to make life better for Trans people. The final list is intended as a resource guide and seeks to raise the visibility and awareness of advocates, activists,and those who do their best to improve the lives of trans people.
The Trans 100 is a curated listing from open nominations of the top 100 Trans activists and advocates that are working to make a difference in the daily lives of Trans people,in order to provide attention, contacts, and recognition to those who do the on the ground work of reducing stigma, ending ostracizing, and furthering the social and economic development of Trans people throughout society.
Guidelines
:
- Nominees must be living and currently working to improve the lives of trans people.
- Nominees can be working at any scale, locally, regionally, or nationally.
- We would like to see all parts of the country represented, and especially otherwise unsung or only locally known workers.
- We particularly encourage the addition of persons of color.
- Nominees must openly identify as Trans.
- They must have been living at least half the year 2013
Notes:
- Voting is anonymous.
- The list will not be ranked, and the tally will not be publicized.
- Nominees will be contacted by the editors for permission before the list is published.
- International nominations will be forwarded to that nation's working group.
Thank you for participating, and please share this widely!
***
Click on this link to
nominate someone for the 2014 Trans 100 List