The 2018 Winter Olympics in Pyeongchang, South Korea will start on February 9, and the sports junkie I am will definitely be tuned into the action from that date until they conclude on February 25.
Hopefully Kim Jong
Fool
Un will behave himself while the world's athletes are on the other side of the DMZ from North Korea .
As has been proven in the United States, track athletes have been majorly successful in crossing over and reinvigorating the US bobsled program. Vonetta Flowers earned a gold medal in the two woman bobsled competition in Salt Lake City in 2002, and the 2014 Sochi bobsled team was composed of five Black women including Summer Olympic gold medalist Lauryn Williams and Lolo Jones
Now in a shades of
Cool Runnings
Jamaican bobsled team story, three US based Nigerian women track athletes have made history by being the first continental African team to qualify a sled in the Winter Olympics.
Driver and team captain Seun Adigun and brakewomen Akuoma Omeoga and Ngozi Onwumere are also the first Nigerians to ever qualify for the Winter Olympics, and did much of it on their own.
Adigun competed as a sprinter for Nigeria at the 2012 Summer Games in London and got the idea to compete in the Winter Games while watching on television the success the 2014 USA women's bobsled team had in Sochi powered largely by US track athletes
She convinced fellow US based track athletes Omeoga and Onwumere to join her, and Adigun built a wooden sled for the trio to practice with they dubbed 'the Mayflower' until they could purchase a bobsled. Adigun raised $75,000, including $50,000 from a single anonymous donor of a stated goal of $150,000/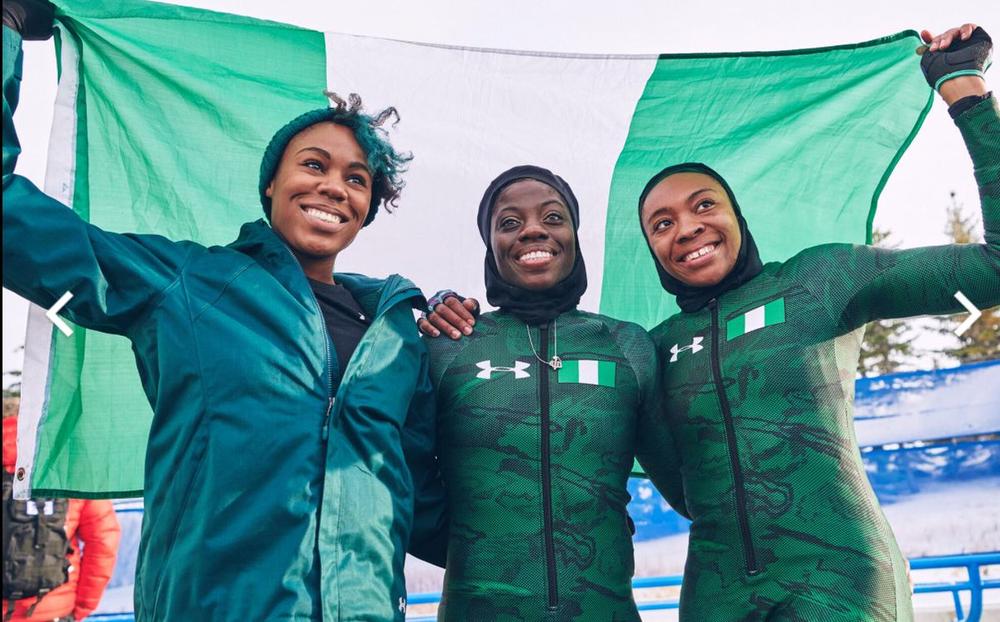 That was enough to get attention and support from the Nigerian Olympic Committee, for a Nigerian Bobsled and Skeleton Federation to form and for the trio to get a chance to practice on ice. They have since that time obtained corporate sponsorships from Under Armour and Visa
To qualify, the trio had to drive their sled through five runs on three different bobsled tracks in Utah, and at Whistler and Calgary which they successfully completed in November by finishing fifth.
This is a huge milestone for sports in Nigeria," Adigun told ESPN. "Nothing makes me prouder than to know that I can play a small role in creating opportunities for winter sports to take place in Nigeria."
"Our objective now is to be the best representation of Africa that the Winter Olympics has ever witnessed," said Adigun.
"I commend the personal dedication and commitment of these women," Nigerian Bobsled and Skeleton Federation President Solomon Ogba told ESPN. "Their hard work was inspiring, and I hope Nigerians can appreciate what it took for them to achieve this — the work, the discipline and the personal sacrifices. They were amazing throughout this journey."
While continental African athletes have competed in the Winter Games, as of yet none has stood on a
medal
podium,
We'll see in a few weeks if this story has a happy ending and ends up at a multiplex near you.