One thing we have been aware of is the face of trans undocumented immigrants being a Latina one. We know that many trans Latinas are here in the US because of anti-trans violence directed at them in their Latin American and Central American nations.
But the Caribbean nations also have problematic levels of anti-trans hatred that drives people from those nations to move elsewhere to escape it.
New York based activist Kim Watson was born in Barbados in 1964, and left at age 23 to attend fashion school and avoid the anti-TBLG abuse she experienced from family and other people there
When her tourist expired in 1988, she stayed here in New York City and after some personal struggles, earned a degree from Pace University, began grassroots organizing for trans and HIV issues. Eight years ago she met and married her husband, and is now a wife and mother in addition to being a kick butt award winning advocate.
But she still faced the real possibility of being deported back to Barbados until she received the good news after a November 19 immigration hearing
that she can stay in the United State
s.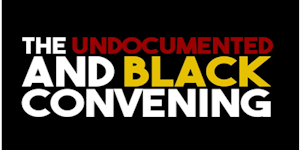 Kim's story is one that comes at a time in which we need to to be paying attention to the lives of undocumented African, Caribbean and Afro-Latinos. Their #BlackLivesMatter,too and we need to be as unapologetically Black people who love all Black folks also standing up for their humanity and human rights as well.
Interestingly enough there is a first ever convening being organized to take place in Miami from January 15-17 called Undocumented and Black that seeks to create a safe space for conversations, own and tell their stories, create acceptance and awareness and become active in creating movement in Blacks for getting involved in the immigration issue.
Because as Kim's story tells us, some of the undocumented immigrants look like us.