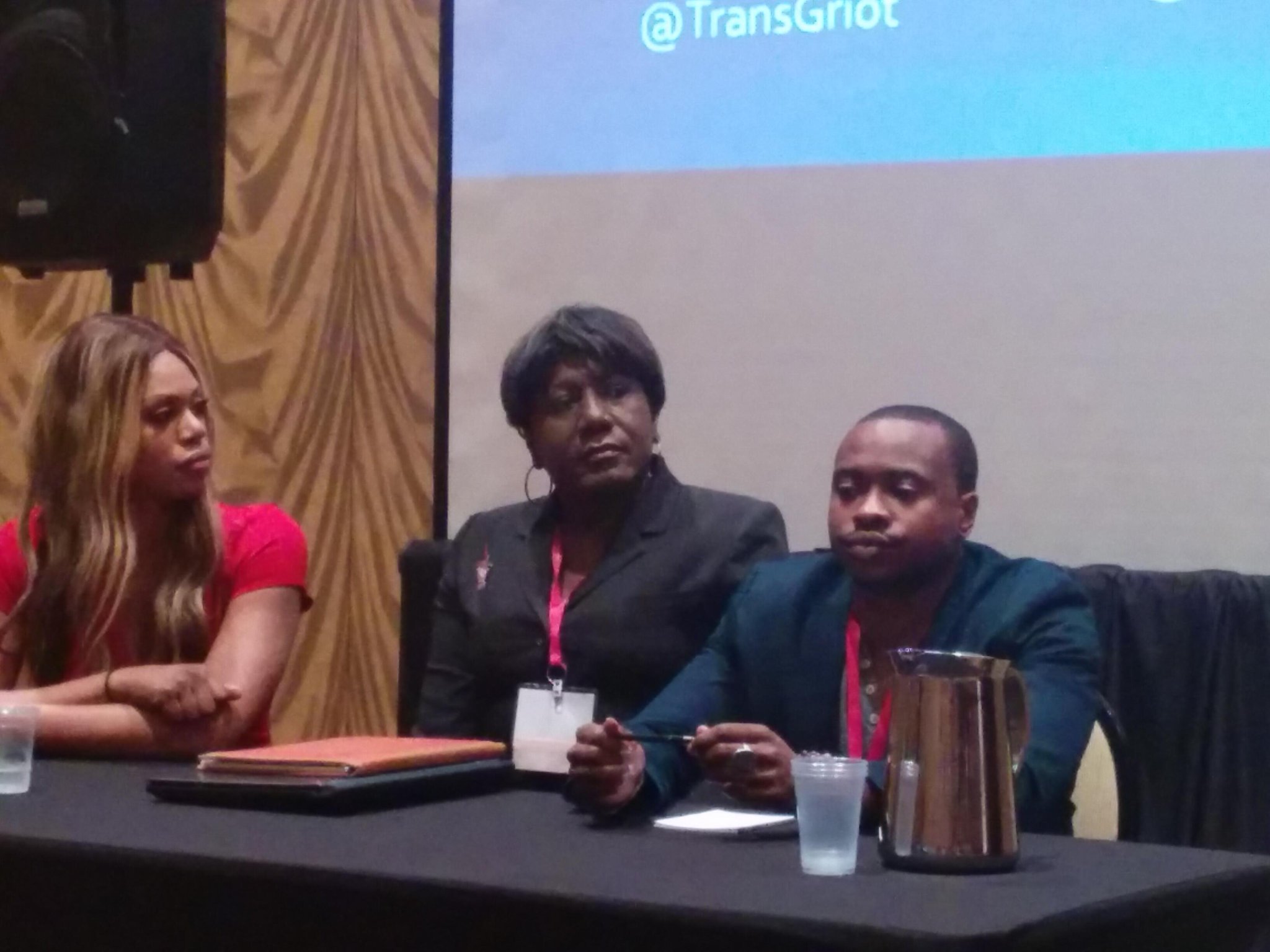 Day 3 of Creating Change Houston Style is conference hump day, and I was doing so on two hours sleep.
It was a self inflicted wound of which alcohol or excessive partying wasn't the cause of it, but writing two posts that I didn't complete to my satisfaction until 4 AM
Unlike many of our attendees, in addition to my seminars I've been blessed to participate in, I've busy working and repping H-town in our Racial Diversity Suite along with Melissa and our proud volunteers.
Thanks to all our volunteers who have or will be working it. James, Letitia, Jerry, Anthony, Larry, Kyndal, Joel, James A, Miriam, James D, Clarence, Ashley, Talor, Keciana, Rodney, Tammy, Erin, Ciro and Reggie.
Your work, smiles, and Texas hospitality is deeply appreciate by Melissa, myself, and our Houston Host Committee. You have our visitors feel welcome, special, appreciated and it has been noticed.
So since my next scheduled panel wasn't until 3 PM, I had the opportunity to support other people panels. But in the wake of Laverne's shoutout to me during her kick butt keynote speech, my coolness quotient was rising and I found myself taking a lot of photos today.
So I started my Day 3 with a panel Toni D'orsay was conducting entitled
How Arizona Flushed Anti-Trans Legislation.
Toni broke down how the Arizona trans community banded together to kill the Your Papers To Pee and No Loo For You bills and discussed the strategies and tactics necessary to kill bad bills in red states.
One of the things that is cool about Creating Change and maddening about it is there are so many wonderful panels that are happening at the same time that in order to get the info needed, you need to find a buddy, split up, attend them and take notes for each other to get the information that will be disseminated in them.
One of those panels that was taking place at the same time I was in Toni's session was one featuring Judge Tonya Parker from Dallas and one of my activist mentors in Judge Phyllis Frye discussing
life on the bench for a TBLG judicial pioneer
.
If your still here and reading this Judge Parker, so want to meet you.
Then my next seminar was
The Sisterhood
, in which I watched a multicultural, bilingual at times and multigenerational panel of Latina, Asian and African American transwomen moderated by Andrea Jenkins that discussed the common issues that affect all our communities and do the work of builing a national sisterhood that will help us go a long way toward solving them. The participants were Milan Alexander, Cecilia Chung, and my homegirls Bamby Salcedo and Arianna Lint.
It was also fun for me because I got to meet the rest of the members of the fabulous TransLatina Coalition and see Ruby Corado again..
After checking on the RD suite and hanging up there for a little to chat with some folks, bounced down to check out Imam Daayiee Abdullah, who I met during OUT on the Hill 2012 and the Muslim service that was held during the lunch hour.
I have been trying to get some quality time together all conference with Imam Abdullah and I have had one impediment after another keeping it from happening. Even on my way to this service there was a room change that caused me to be a little late for this one.
But when I arrived it was worth it because I not only got to hear his sermon and message to the assembled LGBT Muslims and people of other faiths like myself in the room, I got to witness a sadly not too common but emotionally powerful sight of a young woman leading the call to prayer. After talking to Imam Abdullah and many of the other assembled worshipers who appreciated my heightened presence went back up to the suite to rest for a moment before my next panel.
Then came my 3 PM GLAAD sponsored panel with the brilliant Reina Gossett, Tiq Milan and Laverne moderated by Dani Heffernan entitled
Growing Visibility: Transgender People In The Media
in which we spent much of our hour and a half discussing the ways in which media had positively and negatively impacted transpeople and especially transpeople of color.
Then it was back to the suites for a few hours, checking out a blogging panel, bumping into my fave power could in Danielle and Aisha Moodie-Mills looking effortlessly lovely as usual, conversation in the bloggers reception with Venton Jones from NBJC and Samantha Master where we told some hilarious stories about past OUT on the Hills and Samantha joined Janet Mock in asking me to write a book on Black trans history.
And yes, the rumor is true. I had a sit down chat with NCTE's Mara Keisling, Lisa Mottet and Bamby Salcedo to talk about some issues in the community including our shared concern about the developing Jewlyes Gutierrez situation in California.
I said hi to my Houston homeboys and homegirls Lou Weaver, Yesenia Chavez and James Lee who were chilling out nearby before I bounced for the evening.
And what's this rumor I hear that the Denver #CC15 host committee people have been talking smack about busting all the Creating Change records we have set? If its true, bring it on then.
CC14's Hump Day has concluded for me, and now we have one last full day of seminars, plenaries, and once on one conversations with 4000 of our friends to Create Change who have made Houston the center of the LGBT Universe for now.