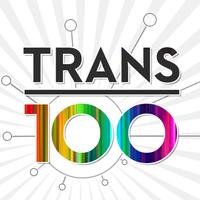 The kickoff event for the inaugural Trans 100 list took place at the Mayne Stage in Chicago last night. The sold out event was streamed live online.
So for those of you who had other business this Easter weekend and are wondering what's this
Trans 100 List
Moni is talking about, it's an annual listing of 100 Trans individuals from all over the country who are currently alive and active in the work of making the lives of Trans people better. It is a curated listing, with nominations solicited from the general public.
The kickoff event was emceed by KOKUMO, and in addition to the stellar entertainment lineup that featured Namoli Brennet, Joe Stevens and the show's emcee KOKUMO singing a song from her EP, it also featured inspiring speeches from Dr. Kortney Ryan Ziegler, Laverne Cox and a closing event one from Janet Mock
But the highlight of the historic evening was the unveiling of the inaugural Trans 100 list of people doing the work to advance trans human rights in the United States.
Heard a lot of familiar names as the lists were read in alphabetical order by first name and some I had to go 'who's that?' on. And as the sixth list of ten names was read, just after Miss Major came yours truly.
While there were some trans pioneers, trans elders and long time activists like Andy Marra, Dr. Kelley Winters, Dr Susan Stryker, Cecilia Chung, Dragosani Renteria, Dr. Marisa Richmond, Kylar Broadus, S. Bear Bergman, Diego Sanchez, Pauline Park, Paisley Currah, Bamby Salcedo, Ruby Corado, Earline Budd just to name a few on the list, we also had Kokumo, Dr Kortney Ryan Ziegler, Laverne Cox, Janet Mock, Namoli Brennet, CeCe McDonald and many up and coming activists on this diverse national list.
It was not only ethnically diverse, it was also geographically diverse. Not all of the peeps on the list reside on I-5, I-95 or inside the Capitol Beltway
Speaking of geographic diversity, Lone Star bragging alert. In addition to moi, there were three other Texans on this list. The 'godmother of the trans rights movement' in Judge Phyllis Frye, BTMI (Black Trans Men Inc) founder Carter Brown and Katy Stewart of Transgender Education Network of Texas (TENT).
Do I accept the honor of being on this inaugural Trans 100 List? You damned skippy I do. After all the times in this space I've griped about trans people being ignored when trans-free LGBT lists are put together and especially trans people of color, it was wonderful to see the community come together to create this event and the curators take time out of their busy schedules to make Antonia D'orsay's dream come to life that Jen Richards co-signed on.
Once it's finalized, the list will be posted at the Trans 100 website. They are also working on getting the Trans 100 kickoff event video posted as well Once both tasks are done I'll post it to TransGriot.
I hope to see more deserving trans Texans on next year's list such as Minister Carmarion Anderson, Lou Weaver, Meghan Stabler, Cristan Williams, Diamond Stylz, Josephine Tittsworth, Nell Gaither, and Dr Oliver Blumer.
If there is someone you think should be on next year's list, nominate them.