Well peeps, this is the moment everyone's anxiously been waiting for, the unveiling of the inaugural Trans 100 List (US). This one is going to be US centric because as Toni D'orsay,
the visionary person behind it says
:
It all comes down to something I have said before: it is not my place to step in and decide for other nations who the best people doing the hardest work are. I am an unabashed citizen of the US, and while I have some cultural competence with other cultures and countries, it is still an outsider's perspective and flawed and it can't possibly be as decent as the ideas of those who are living there locally.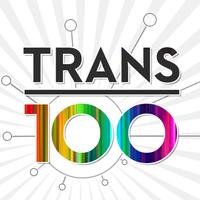 So international trans folks, while the TransGriot and others in the States do try to keep up with the trans activists in other regions of the world doing trans human rights work and in many cases they are our friends, you would still know better than us who is doing the work in your various nations and the trans persons inside your borders worthy of recognition.
Besides, I'd love to see a British Trans 100, an Australasian, Canadian or other national ones. I'd even like to see regional ones such as an Asian-Pacific Rim, African, Caribbean, Latin American, African or South American ones.
The process of putting your national or regional specific lists can also serve as a community building exercise and facilitate fostering contacts across borders that will help with future trans human rights work..
But as Mr. T would say, enough jibber-jabber.. Here's
The 2013 Trans 100 List
with some award winning blogger y'all know on it.
The Trans 100:
Abigail Jensen
Aidan Key
Alexis Martinez
Allyson Robinson
Andre Perez
Andy Karol
Andy Marra
Anna Anthropy
Asher Kolieboi
Avory Faucette
Bamby Salcedo
Baylie Roth
Ben Hudson
Blake Alford
Bree Sutherland
Carter Brown
Cecilia Chung
Channyn Lynne Parker
Charlie Solidum
Che Gossett
Christina Kahrl
Cristina Herrera
Claire Swinford
Diego Sanchez
Drago Renteria
Dru Levasseur
Earline Budd
Eli Erlick
ellie june navidson
Elliot Fukui
Erin Armstrong
Harmony Santana
Harper Jean Tobin
Ida Hammer
Ignacio Rivera
Ja-briel Walthour
Jaan Williams
Janet Mock
Jenn Burleton
Jenny Boylan
Justus Eisfeld
Kate Bornstein
Kate Sosin
Katherine Cross
Katie Burgess
Katy Stewart
Kay Barrett
Kelley Winters
KOKUMO
Dr. Kortney Ryan Ziegler
Kylar Broadus
Laverne Cox
Lincoln Rose
Loan Tran
Mara Keisling
Marisa Richmond
Marsha Botzer
Masen Davis
Matt Kailey
Mel Goodwin
Mia Tu Mutch
Michelle Enfield
Miss Major Griffin-Gacy
Monica Roberts
Monika Mhz
Namoli Brennet
Nicholas Love
Nick Teich
Niko Kowell
Nino Dorenzo
Ola Osaze
Owen Daniel-McCarter
Paisley Currah
Pauline Park
Phyllis Frye
Qwo-Li Driskill
Rebecca Allison
Rebecca Kling
Reina Gossett
Ruby Corado
Ryan Blackhawke
Ryka Aoki
S. Bear Bergman
Sadie Baker
Sasha Alexander Goldberg
Sassafras Lowrey
Sean-Michael Gettys
Shane Morgan
Shawn Demmons
Spencer Bergstedt
Stephen Ira
Susan Stryker
Tei Okamato
Tracie O'Brien
Trisha Lee Holloway
Trudie Jackson
Van Binfa
Van Nguyen
Yoseñio V. Lewis
Zander Keig

And thanks Toni and Jen and the curators for all the hard work you engaged in as you put this together the list and all the people who busted their butts to make the Trans 100 event in Chicago last Sunday an unqualified success.