Got a call early Saturday morning from Chevara Orrin and Jane Vaughan alerting me to a developing situation at North Carolina HBCU Winston-Salem State University
Junior Aaron McCorkle is a Thurgood Marshall College Fund scholar, an out and proud SGL man and popular student on the WSSU campus. During his time there 'Stacks' has walked away with the Mr. Freshman title in 2011-12, was elected to the Student Government Association Freshman Class council the same year, was elected Mr Sophomore in 2012-13, and Mr. Mass Communications in 2013.
He has also served in leadership roles at Winston-Salem State as a member of Prism, the WSSU on campus LGBT organization, the Campus Activities Board and as the NAACP student representative all while maintaining a 3.3 GPA.
Now McCorkle has set his sights on winning the Mr. WSSU crown and based on his previous track record has a great chance of winning it.
And some WSSU folks are not only 'scurred' about that possibly occurring, they aren't happy about it and are expressing their homophobic opinions on social media.
In addition to the haters expressing themselves on social media, with one person suggesting that all the former Mr WSSU's get together to 'whip his (McCorkle's) ass', as an eerie reminder to me of last year's
ugly smear campaign
aimed at openly gay UH-Downtown student Kristopher Sharp when he was running for student vice president, two year old photos of McCorkle in drag popped up just as his campaign for Mr. WSSU ramped up with the caption, 'Is this what you want representing the entire school community?'
Adding to the divisive crap being stirred up by somebody who is desperate to win the Mr. WSSU title by any means necessary, are homophobic tweets by Brian 'B-DAHT' McLaughlin, a local radio hip-hop DJ on WJMH-FM 102 Jamz since 2005 who is a Winston-Salem State alum and an announcer at WSSU sporting events.
McLaughlin poured gasoline on the fire being stirred up by tweeting the following comments:


"If y'all let a drag Queen be Mr. #WSSU, I quit. Straight up."; "#WSSU: y'all really letting a dude, that goes out in drag #nshit, run for Mr. Ram? Have y'all lost y'all mutha fuckin minds, man?!"; "Yes we ARE talking about this putrid shit. Y'all have completely lost it. The nigga dresses in drag, & HE will represent our school?"; and "...Get the fuck outta here. Ya turning the position into a fucking joke. Clowns."


At the same time McLaughlin tried to hypocritically say his anti-gay views didn't reflect 102 Jamz or MTV2, where according to his Linked In profile he is one of the cast members on the sixth season of Nick Cannon's Wild 'N Out improv show on that cable network

Naw Brian, your homophobic views negatively reflect on you as a human being. They are also dangerous because you have influence in the community because of your 100,000 watt radio station platform, television appearances and on the WSSU campus as the announcer for Ram athletics.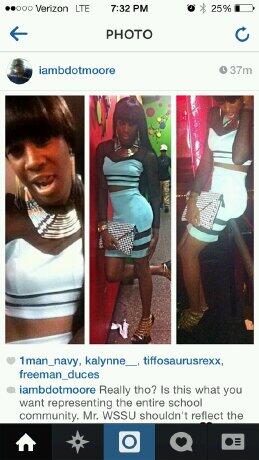 Some of this phobic hatred being aimed at McCorkle is because the winner of the Mr. WSSU title goes on to face off against seven other HBCU's in the now ten year old
Mr. HBCU contest
held on the campus of Lincoln University (Missouri). WSSU has been quite successful at that event, bringing back the crown once and placing in the first runner up spot twice.
If the goal was to stir up enough anti-gay animus on campus to wreck McCorkle's Mr WSSU campaign, the perpetrator succeeded in stirring up the anti-gay animus part by also injecting a heaping helping of transmisogyny in the mix.
Whether it will succeed in derailing McCorkle's chances to become Mr WSSU is still debatable, and may even backfire. It may cause students on the WSSU campus to rally to defend the embattled student because he is being attacked.
Will definitely be keeping an eye on this developing situation.
Update: Mr WSSU election is Wednesday.