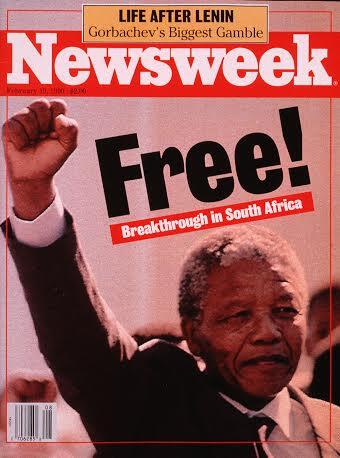 "Everyone can rise above their circumstances and achieve success if they are dedicated to and passionate about what they do."
--Nelson Mandela"
Talk about irony. As the movie based on his autobiography
Long Walk To Freedom
starring Idris Elba as him is set to premiere on multiplex screens around the world, we get the sad news moments ago that Nobel laureate Nelson Mandela, the first democratically elected Black president of South Africa, (at 8:50 PM South African time) has passed away today at age 95 after a long illness at his home in Johannesburg.
He has been under round the clock care since being released from the hospital after fighting off a lung infection, but the iconic human rights warrior's own Long Walk Home happened today.
Nelson Mandela has been around in my life as long as I have been on the planet. At the time I was born in 1962, South Africa's African population chafed under the intolerable oppression of apartheid that he, the ANC and a coalition of anti-apartheid activists there and around the world fought mightily to end. I was a mere three months old in August 1962 when he was arrested and later sentenced to five years in prison for inciting workers strikes and leaving the country without permission.
After the Rivonia Trial, which started October 9, 1963 in which he and his ANC comrades were charged with four counts of sabotage and conspiracy to violently overthrow the government, he was sentenced to life imprisonment on June 12, 1964. He was subsequently sent to Robben Island to serve 18 years of the 27 total years he served in prison until due to international pressure he was released from Victor Verster Prison by South African President FW de Klerk in February 11, 1990.
As our right-wingers called him a 'terrorist' and flung the C-word at him, (Communist) he was busy along with a multiracial coalition there negotiating the agreements that would end apartheid. He was also building the consensus that would result four years later on April 27, 1994 in him being elected president of South Africa.
During his presidency that lasted until 1999, he put South Africa on a path of unifying the country and building a multiracial democracy until he stepped down from that position. .
There are his critics on the left who call him out about the Truth and Reconciliation Commission that they charge allowed too many of the crimes committed by people during the apartheid era and their perpetrators to get away with them without punishment.
As President Obama said
in his remarks
concerning the passing of Nelson Mandela:
Today he's gone home and we've lost one of the most influential, courageous and profoundly good human beings that any of us will share time with on this Earth. He no longer belongs to us; he belongs to the ages. Through his fierce dignity and unbending will to sacrifice his own freedom for the freedom of others, Madiba transformed South Africa and moved all of us. His journey from a prisoner to a president embodied the promise that human beings and countries can change for the better.

His commitment to transfer power and reconcile with those who jailed him set an example that all humanity should aspire to, whether in the lives of nations or in our own personal lives. And the fact that he did it all with grace and good humor and an ability to acknowledge his own imperfections, only makes the man that much more remarkable. As he once said, "I'm not a saint unless you think of a saint as a sinner who keeps on trying."
South African president Jacob Zuma
said in his remarks to his nation
:
"Our nation has lost its greatest son. Our people have lost a father. Although we knew that this day would come, nothing can diminish our sense of a profound and enduring loss. His tireless struggle for freedom earned him the respect of the world.
That it did and it's obvious from all the people around the world now commenting in the wake of his death he was loved. As someone who fights for the human rights of transpeople, I draw upon his words for inspiration at times and try to live up to his example.
Two of my favorite quotes from him are, "For to be free is not merely to cast off one's chains, but to live in a way that respects and enhances the rights of others."
The other Mandela quote that has particular resonance for me as an African-American trans person is, "
'To deny people their human rights is to challenge their very humanity'
There is no doubt that we have lost a revered human rights champion. South Africans have lost the revered father of their nation. Like millions around the world, we African descended Americans loved and admired him just as much as he did African-Americans, our culture and our concurrent human rights struggles here in the USA.
Rest in power, Madiba. You've more than earned it.