It is assumed that at this press conference, Gov Abbott will announce his decision on whether or not to call a special session, and if he does, what issues the special session call will entail.
.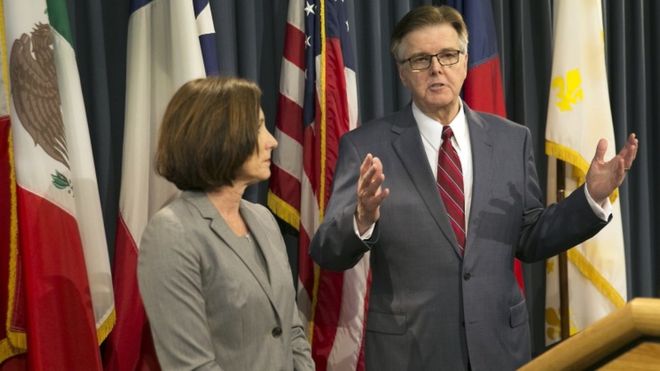 Ever since the Memorial Day
sine die
date of a contentious 85th Texas Legislative session, rumors have been flying even that day under the Pink Dome that we were cruising toward a special session.
Lt. Governor Dan Patrick (R) has been loudly pushing for a special session in large part because he's pissed off his unjust SB 6 that he got Sen Lois Kolkhorst (R-Brenham) to push died in the Texas House.
Abbott is in a no win situation. Only he under the Texas Constitution has the power to call a special session. He also decides what bills to bring up during that special session that can last up to a maximum of 30 days.
The governor also because of Texas Constitution Article 3, Section 40 faces no limitation of the number of issues that can be designated for consideration in the special session proclamation.
The governor can also call as many special sessions as he wishes. Back in 2003, then Governor Rick Perry (R) called the Lege into special session three consecutive times in order to execute the infamous partisan Delaymandering of Texas congressional districts.
And don't think that 2018 Texas GOP primary politics aren't entering into the political calculus of this. The governor and lieutenant governor are up for re-election next year, and it's been rumored that Patrick is angling to go after Abbott despite previous declarations that he is running for reelection as the lieutenant governor. .
Abbott will also piss off Texas taxpayers who have to foot the $800,000 bill for this 30 day exercise in Texas Republican legislative oppression.
If he doesn't call the special session, then Dan Patrick will probably use his decision not to do so as an attack weapon in a potential Republican gubernatorial primary (assuming he runs for governor next year) by claiming that Abbott is not a 'real conservative' and doesn't want to stand up for your 'Texas Values'
FYI Lt Dan, if you think that attacking trans people is good for your political prospects, ask ex Texas state reps Debbie Riddle (R-Tomball) and Gilbert Pena (R-Pasadena), former South Carolina state senator Lee Bright, and former North Carolina Governor Pat McCrory.
So in a few hours I and a lot of people in the Lone Star State will be watching to see if we'll have to make another trip to Austin to fight Republican legislative tyranny aimed at the Texas trans community for cynical GOP political primary gain.