July 1 is the day in NCAA collegiate athletics that schools get to move to their new conferences for the 2014-15 academic year.
One of the schools moving to a new conference today is the University of Louisville, who leaves the American for the upper crust digs of the Atlantic Coast Conference.
The ACC welcomes the Cards into their conference ranks as their 15th member with a ceremony at Fourth Street Live! in downtown Louisville starting at 5 PM EDT.
While I'm going to miss seeing them in the American, can't be too mad at U of L I've had a ringside seat during my time in the city to see how the school and AD Tom Jurich has worked to be in the position to make their program an attractive one and build the facilities. The payoff of that investment was the Cards being asked to join a better and more nationally ranked power conference like the ACC.
When I was a Coog, we were a nationally ranked kicking butt member of the dearly departed Southwest Conference. We went to three consecutive Final Fours and a Cotton Bowl, and I'd love to see them playing at that Top 25 level again in all sports. Maybe with that burnt orange wearing UH hater Deloss Dodds gone into retirement, the new football stadium opening next month, and the upcoming renovation at Hofheinz Pavilion, we'll eventually get that Big XII invite that has been denied us.
The University of Houston deserves that sitting in the largest city in Texas, and I hope UH is paying attention to how Louisville made it happen for themselves since they were in similar dissed circumstances back in the day.
S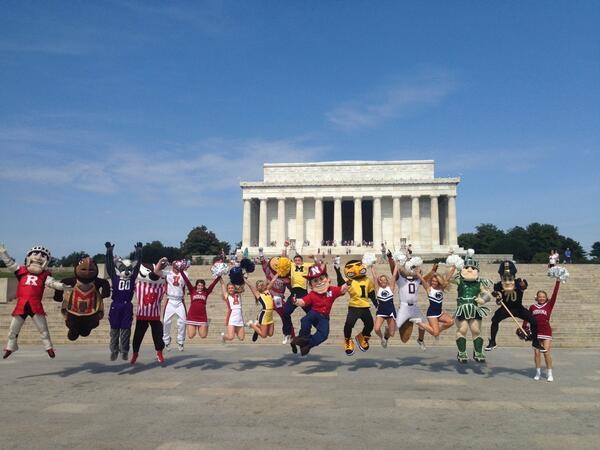 peaking of conference moves, the Big Ten welcomes former ACC charter member Maryland and the AAC's Rutgers into their ranks.
On top of that with the entry of these two schools this fall, the Big Ten scrapped the Leaders and Legends Divisions and went to the more logical geographic divisional setup.
Should be interesting to see what these two schools bring to the Big Ten table besides the Washington DC and New York-northern New Jersey TV markets, especially when basketball season kicks off.
As for the American (AKA the old Big East) which is the Coogs current conference home, we get reunited with some old C-USA foes in East Carolina, Tulane and Tulsa this fall with Navy joining in 2015.
Our crosstown rivals Rice in C-USA will also get some new conference members in Old Dominion, which is moving up from the FCS level and Western Kentucky, with Charlotte scheduled to join C-USA after an FCS transition in 2015.
This is the 2014 edition of NCAA conference moving day. We'll see how well it plays out for all the schools involved this fall. It also brings up the question, will there be another round of conference shuffling soon?