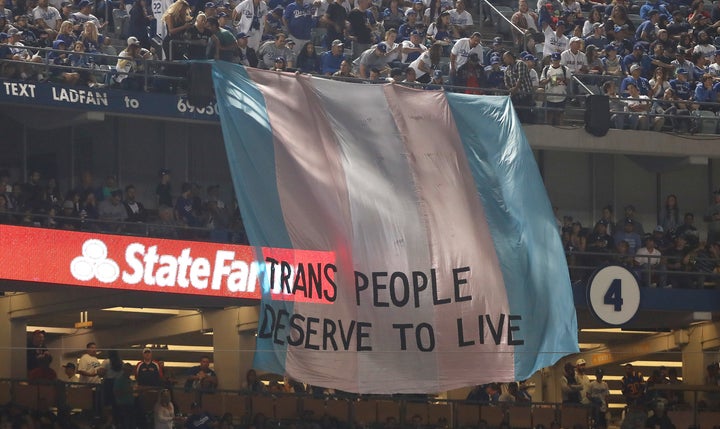 I wasn't watching Game 5 of the 2018 World Series in Los Angeles because I'm still salty about what happened to my Astros. But when chatter started popping up online about something happening at the game, I took a few moments from the writing assignment I was working on to check it out.
My online social media search was rewarded with the glorious sight of a trans flag themed banner being unfurled in Dodger Stadium with the words 'Trans People Deserve To Live' on it.
The question that crossed my mind when I saw it was,"I wonder if the trans Latinas were behind this?" It didn't take long to have my hunch confirmed that it was indeed the Trans Latina Coalition handling their Dodger Stadium protest business.
Bamby Salcedo and Maria Roman were at the Red Sox- Dodgers game and during the fifth inning, dropped the banner from the left field upper deck seats of the stadium.
Even if I had been watching the game, would have found out about it until later because the banner according to multiple reports, wasn't shown during the FOX broadcast of the game.
It did hang for a few minutes before security personnel intervened, removed the banner and escorted Salcedo and Roman out of the ballpark without incident and without being arrested .
"I felt my heart was dropping along with it," said Salcedo, the president of the Trans Latina Coalition in an interview with INTO. "I was kind of exploding because of the adrenaline. You don't know what's going to happen with the police and security and all of that."
Even though the banner drop didn't make it on the FOX broadcast of what turned out to be the final game of the World Series, it is blowing up on social media.
Salcedo is calling for trans people in other communities to take up space in mainstream community events and replicate the action just conducted in Los Angeles as a show of resistance to the anti-trans actions being aimed at us.
"I hope that this action will motivate members of the trans community, our allies and our comrades to really activate and to really understand that we have power," Salcedo said. "We can demonstrate our power anywhere and everywhere."
Yes, we can. What it also demonstrates is that we will not be erased, either.