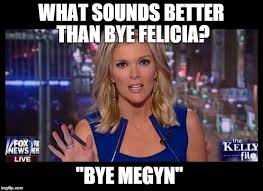 Black Santa came early this year and gave us the Christmas present of Megyn Kelly FINALLY getting fired from the
Today Show
for her comments defending blackface.
The karmic wheel has finally come for Kelly, who Black America has always had a hate-hate relationship with. While Kelly was the pretty propaganda face at FOX Noise, she dished out
a long stream of anti-Black comments
that we still have receipts for and she's been unrepentant about.
What pissed off Black America even further was Andy Lack paying $69 million to Kelly to come to NBC, and the shady way that Tamron Hall and Al Roker were forced out of their
Today Show
time slot to make room fo her to do so.
Seems like Andy Lack was the only person in America who didn't know this was a ratings trainwreck in the making. I stopped watching
Today
the nanosecond that Tamron Hall was bounced.
Wonder how my fellow Texan is feeling today about this news? She's keeping it classy, so Black America will be gleefully petty for her.
#ByeMegyn. And a suggestion for you as you look for a new TV job. Get some counseling to deal with those anti-Black attitudes you obviously have a problem with.