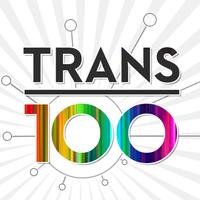 The initial Trans 100 List will debut with kickoff events in Chicago and Phoenix, and after a tough week with trans people being attacked, HRC pissing off the trans community with the flag flap at the SCOTUS rally, an unjust bill advancing in Arizona and Whyte Womyn Going Wyld, it'll be nice to have some positive news concerning our community for a change.
Really looking forward to seeing who the curators finally chose to grace the initial list after sorting through the 500 nominations submitted.
I understand I was one of the people nominated so we'll see if I made the final cut.
Thanks to This Is H.O.W. and We Happy Trans for bringing Antonia D'orsay's idea that Jen Richards liked to life and all the people who worked tirelessly behind the scenes to wade through those nominations and come up the final list.
I'm glad this is going to be an annual list, especially since we trans folks and our contributions tend to be ignored far too often when LGBT ones are put together that are heavily LG centric with a B thrown in as an afterthought.
I'm looking forward to the day when folks in other countries compile their own Trans 100 type lists so the people that do the trans human rights work in their nations get the recognition they deserve for it.
Looking forward to tomorrow when the Trans 100 List is revealed.