It's that time again. Time to discover
out of all these folks nominated
who will be named the TransGriot Shut Up Fool Of The Year for 2017.
But before I do that, let recap the previous winners of the TransGriot Shut Up Fool of the Year Award
2009-
RNC Chair Michael Steele
2010-
Sarah Palin
2011-
Herman Cain
2012-
Mitt Romney
2013-
Sen. Ted Cruz
2014-
Rep. Louie Gohmert
2015-
Donald Trump
2016-
Donald Trump
2017- ?
There were many worthy nominees, and Trump more than did enough in his ongoing dumpster fire of a mispresidency to win the SUF of the Year for a third consecutive year.
But I decided to give it to another deserving fool this year.
The five 2017 Shut Up Fool of the Year finalists I narrowed it down to were a
group award for the Republican Party
,
Milo Yiannopoulos, Alex Jones, Kellyanne Conway and Sarah Huckabee Sanders.
The envelope please.
The 2017 Shut Up Fool of the Year is
Texas Lt. Governor Dan Patrick
Potty Dan Patrick wasted much of his political capital and Texas taxpayer dollars trying to foister an unjust anti-trans 'Bathroom bill' on the state that the Texas trans community, its allies, Texas reality based citizens, Texas police departments and police chief , the Texas business community, Texas oil companies, Texas colleges and universities, the mayors of Dallas, Houston, San Antonio and Austin, and most importantly Speaker Joe Straus (R-San Antonio) and Chairman Byron Cook (R-Corsicana) of the House State Affairs Committee repeatedly told him they didn't want and was bad for Texas.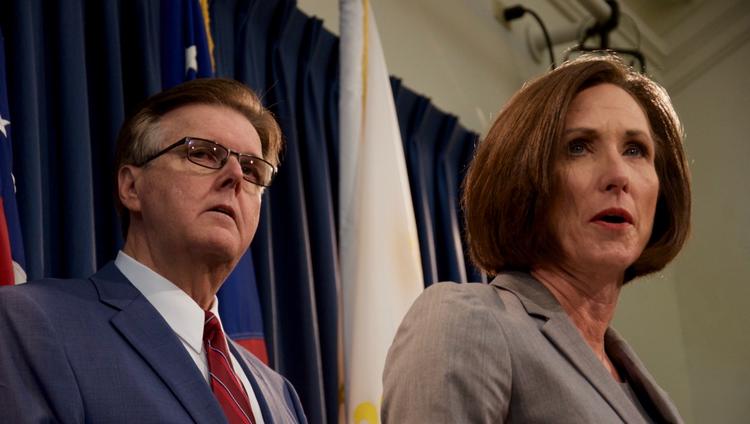 But Patrick and his henchwoman Sen. Lois /Locker Room' Kolkhorst (R-Brenham) tried to force this legislative cow chip through the 2017 regular legislative session and a special session he forced that cost the state's taxpayers an addition $800,000 only to fail twice to pass it.tanks to the adults in the Texas House.
Just talking about SB 6 passage cost the Houston, Dallas and Austin millions $66 million in lost convention business. It cost Galveston, TX a conference, and put $200 million of business in jeopardy.
And why? For Dan Patrick's personal political gain.
That anti-trans rhetoric he, Lois and his party peddled during the session to pass SB 6 led to four trans Texans being killed and others being harassed across the state.
And once it was clear it wasn't going to pass in the Special Oppression Session, Patrick blamed everybody but the person staring back in the mirror.
There's an ever lengthening list of politicians who lost their seats or offices for peddling transphobia that includes TX Rep. Debbie Riddle, TX Rep Gilbert Pena, NC Gov. Pat McCrory, and now VA Delegate Bigot Bob Marshall.
Hopefully on November 6 you'll be the next legislative transphobe added to that not so distinguished list.
Congratulations, and Shut Up Fool of the Year.