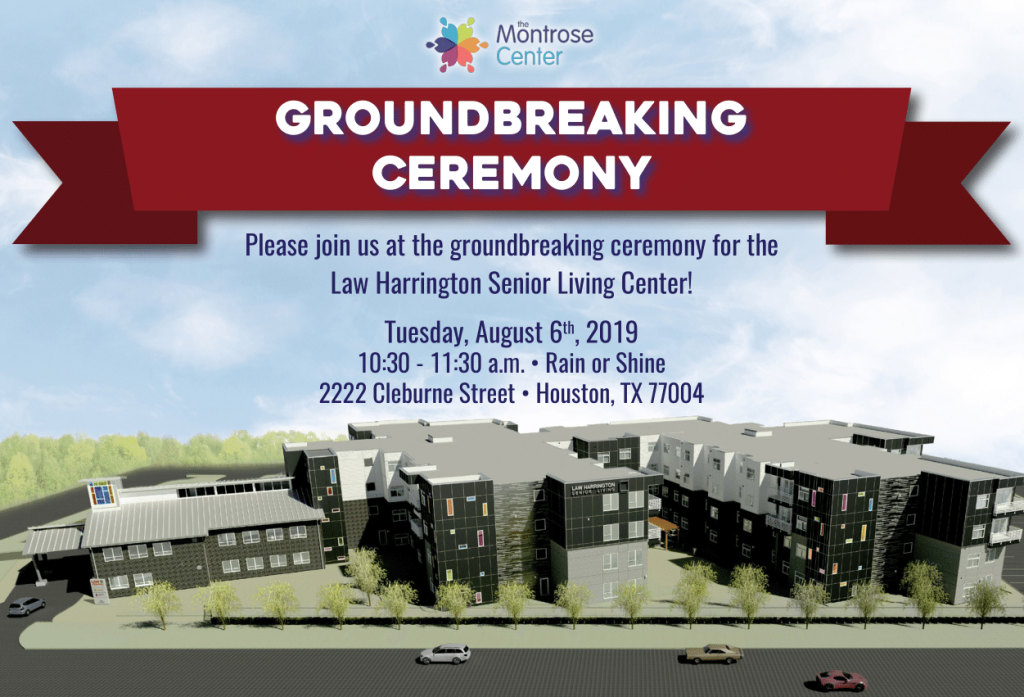 One of the stops that I enjoyed during a LGBT Media Journalists Convening trip to Philadelphia a few years ago was to the John C Anderson Apartments.
It was a seven story low income LGBTQ seniors apartment complex in the Philadelphia gayborhood. I enjoyed a conversation I had with one of the residents, a trans woman named Barbara who dropped a history lesson on me in terms of what it was like to transition back in the 60's.
I walked away from that visit wondering why we couldn't have something similar to that in Houston.
Fortunately then Mayor Annise Parker was visiting a similar low income LGBTQ seniors complex in Los Angeles, and upon her return to Houston began the process in conjunction with the Montrose Center to replicate the same thing for us.
Later this morning at 10:30 AM
ground will be broken
on the 112 unit Law Harrington Senior Living Center at 2222 Cleburne Street
It was first announced back in September 2018, but rising construction costs forced a delay. $23 million dollars in funding through various sources such as grants, tax credits and community donations and the No Place Like Home campaign put it back on track, and the final necessary funding was acquired in June.
Seniors age 62 and up will be housed in the one and two bedroom apartment on the site that located a 1.5 miles east of the Montrose Center along the proposed Blue Line light rail line in Third Ward. .
The rent will be limited to no more than 30% of a prospective seniors income because one third of . LGBTQ seniors live at or below 200% of the federal poverty line. Housing discrimination also forces many LGBTQ seniors to go back into the closet just to survive or age in isolation from the community.
The complex will include a social services center, a group dining area, a garden, dog park, game rooms, a fitness center and a geriatric primary care facility provided by Legacy Community Health
The Montrose Center is not yet taking applications for housing in the complex, but you can best believe I'll be keeping an eye on how construction is progression on it since I'm less than 5 years from being able to apply for one of those units