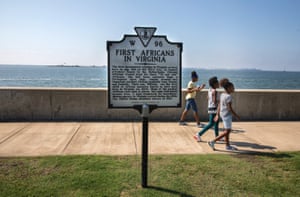 Today is the 400th anniversary of the
arrival of captive Africans
at Old Point Comfort in what would later become Fort Monroe in Hampton, VA.
They were part of an original group of 60 Africans captured in in the kingdom of Ndongo in present day Angola. With the Transatlantic Slave Trade well underway in the Caribbean and Latin America, the captured Africans were placed on a Spanish ship named the
San Juan Bautista
to transport them on an unwanted boat ride to Mexico.
The
San Juan Bautista
was attacked by two pirate ships, the
White Lion
and the
Treasurer
, who forced the Spanish ship to surrender its cargo of captive Africans. Those ships got split up during a storm, and the
White Lion
ended up at Old Point Comfort.
I also need to emphatically point out these early Africans weren't slaves. Slavery was not legal in Virginia at that time and wouldn't become so until 1661, so those 20 plus Africans from Angola were traded for food and supplies and treated as indentured servants.
At the time of the Africans arrival, the colony at Old Point Comfort was failing. The colonists were resorting to cannibalism to survive, and now you had these Africans who arrived just in time with farming and artisan skills that were spread out amongst the nearby Virginia area homes and plantations
Those African farmers also had the skills to cultivate rice, sugar and cotton, crops that were perfect for this climate, but didn't have the seven year contracts like the white indentured servants from England. That meant the Africans were at the mercy of their plantation owners
Many of those Africans worked 15-20 years before they were granted their freedom. Once that freedom occurred, the freed Africans started their own homesteads, married other white and Native Americans, purchased the freedom of other family members, owned land, and enjoyed their freedom during that 40 year period before slavery stained what would later become the United States for the next 200 plus years
One of the other things that happened with those first African arrivals was the first African descended child born in North America. Isabella and Antony were part of that group of 20 Africans that ended up living at Capt William Tucker's home, the commander of Point Comfort
His home was in present day Hampton. and Antony and Isabella eventually got married and had a son named William Tucker. The Tucker family was documented in the 1625 Virginia census, and William was baptized on January 4, 1624. William is considered to be the first documented African descended child born in English North America.
The occasion of the arrival of Africans in America will be marked by a series of events in Hampton during the August 23-25 weekend.
In light of the fact we have ignorant MAGAts shouting 'go back to Africa' to us, this 400th anniversary celebration of the arrival of Africans in America is a timely one.
It drives home the point that we have not only been here in North America for 400 years and predate the founding of the United States, but despite all the ongoing challenges of being Black in this country, we have managed to persevere, and thrive.