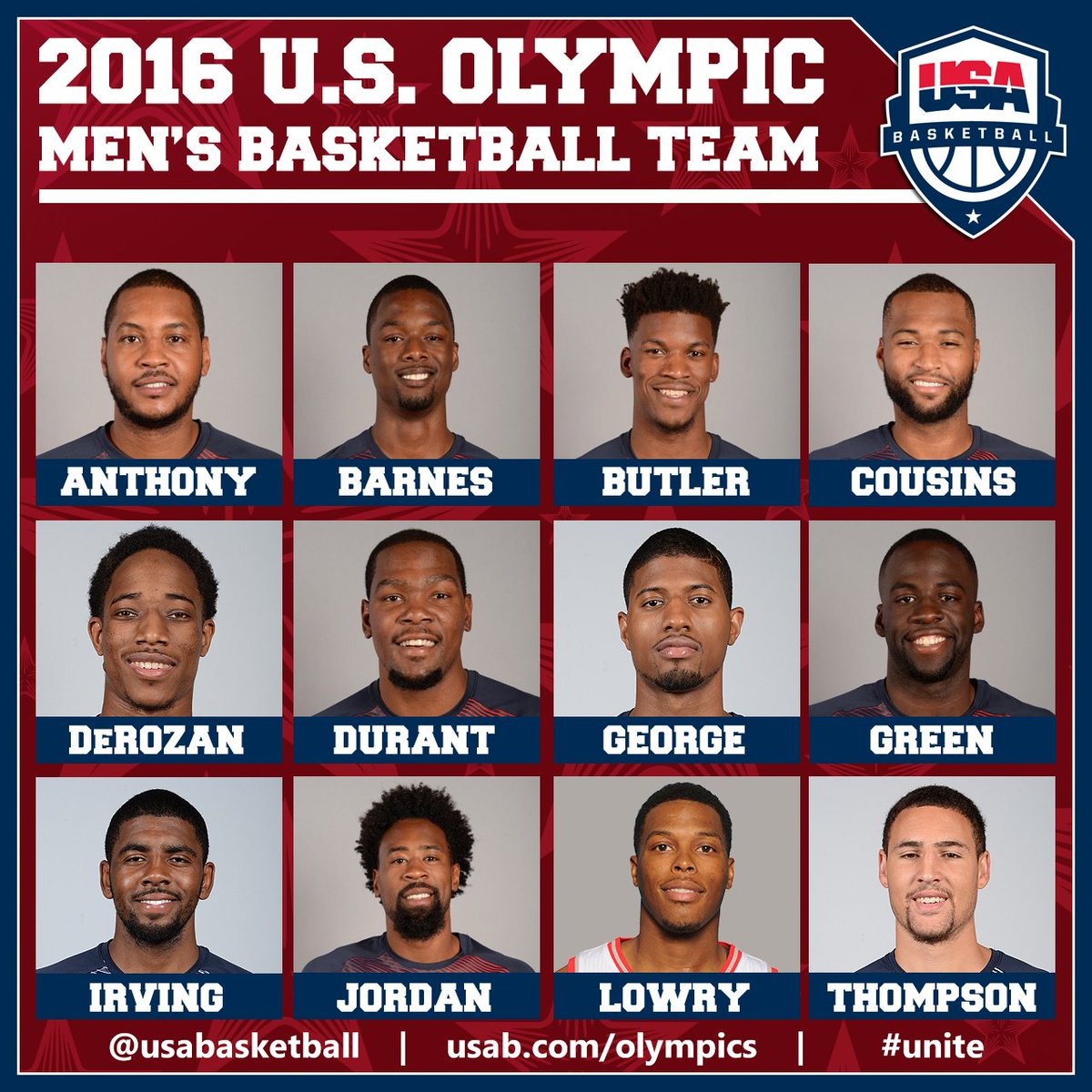 Going to be an interesting Team USA men's bunch to watch with no LeBron James, no James Harden, no Russell Westbrook, no Anthony Davis, no Blake Griffin, no Kawhi Leonard and no Stephon Curry on the squad due to injuries or declining to play.
But fortunately for us the USA basketball talent pool is so deep it may not matter. They'll still have Mike Krzyzewski on the sidelines calling the plays as they seek the Olympic medal threepeat.
The 2016 Olympic squad was recently unveiled that we'll be cheering when they start play August 6 are Jimmy Butler, Kevin Durant, DeAndre Jordan, Kyle Lowry, Harrison Barnes, DeMar DeRozan, Kyrie Irving, Klay Thompson, DeMarcus Cousins, Paul George, Draymond Green, and Carmelo Anthony, who'll be the oldest player on the squad at the ripe old age of 32.
This team may be better and more versatile than it looks, and that matters in FIBA ball. There are two 2012 Olympians in Anthony and Durant are on this squad along with five players from the 2014 FIBA World Championship Squad. Happy to see Paul George on the team because he suffered that gruesome leg injury while trying to make the 2014 FIBA World Cup team
The assistant coaches backing up Coach K are Jim Boeheim, Tom Thibodeau and Monty Williams and will warm up for Olympic competition with a five game US tour that starts July 22 in Las Vegas against 2004 Olympic champ Argentina.
They'll play back to back games vs. China in Los Angeles on July 24 and in Oakland on July 26, against Venezuela in Chicago on July 29 before playing their final tune up game here in Houston vs. Nigeria on August 1.
When the Olympic tournament kicks off, they will be in Group A for pool play against Venezuela, China, Australia and the number 1 and number 2 teams from the upcoming FIBA Men's Olympic Qualifying Tournament July 4-10 in Italy, the Philippines and Serbia,
Team USA will begin Olympic pool play on August 6 against China, then play Venezuela on August 8, Australia on August 10, the OQT 2 on August 12 and finish Group A play on August 14 with OQT 1
The knockout round will start on August 17-19, with the Gold medal Game on August 21.
Here's hoping that when that game tips off at 1:45 PM CDT the USA is one of the teams in it and not in the Bronze medal game or shockingly sitting on the sidelines..