The arrival of the month of May also means it's time for the second Grand Slam on the professional tennis calendar in the French Open
It starts tomorrow, and it's also the first Grand Slam tourney that Serena Williams will play in since she gave birth to her daughter Alexis back in September. She was ranked number one in the world when she went on maternity leave, and is now ranked number 22 in the WTA rankings.
Knowing Little Sis, won't take her long to get back in the Top 10 or number one in the world
She's chasing her fourth French Open title and her 24th Grand Slam title of her career. But the terracotta clay courts of Stade Roland Garros are not her best surface, and as of yet she hasn't demonstrated she's back at playing Serena level tennis.
To add to the challenge she's facing, she's unseeded in this tournament and will start first round play against Kristyna Pliskova of the Czech Republic. Should she successfully clear that match, she'll face the winner of the Ashleigh Barty- Natalia Vikhlyantseva match.
Some of the seeded players in Little Sis' section of the bracket includes number 6 seeded Karolina Pliskova, number 11 seed Juliana Gorges, number 17 seed Ashleigh Barty and number 28 seeded Maria Sharapova
But never underestimate Serena. The French Open also has a pattern of many of the major seeds falling in the first two rounds. If that pattern repeats itself and Serena is still standing as we reach Saturday, don't bet against holding up another Coupe Suzanne Lenglen when the tournament concludes on June 10
Speaking of Top 10 players, one of them is her sister Venus Williams. Big Sis is ranked number 9 in the WTA rankings, just above number 10 Sloane Stephens as she and Little Sis prepare for their business trip to Paris.
Venus is also in search of her first French Open title since 2002. She will start first round play against Qiang Wang of China. If she handles her tennis business, she'll face in the second round the winner of the Petra Marcic-Yafan Wang match.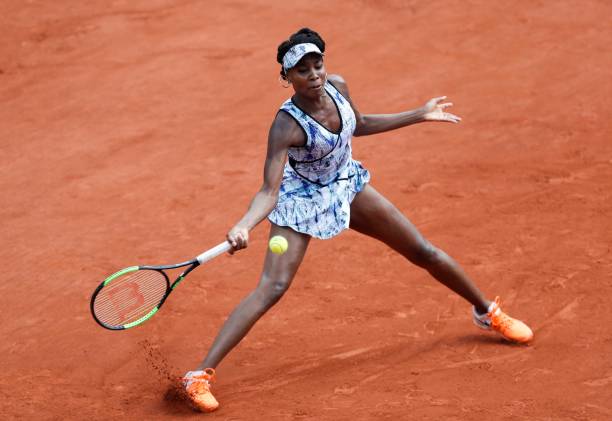 Venus is also in the bottom half section of the draw that contains number 5 seed and 2017 French Open defending champ Jelena Ostapenko, number 22 seeded Johanna Konta, number 26 seeded Barbora Strycova and unseeded Yulia Putintseva and Victoria Azarenka.
The Williams sisters will also play doubles in Paris, having been granted a wildcard entry into the doubles tournament. They have won 14 Grand Slam doubles titles, with two of them occurring at the French Open in 1999 and 2010.
The last time they played doubles at the French Open they fell in the third round in 2016 and in the first round in 2013.
We'll see how they fare on this business trip to Paris in the singles and doubles draw.