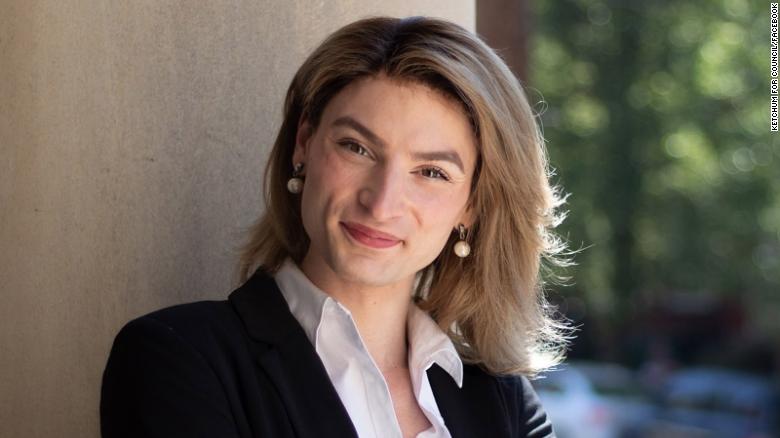 Trans political history was made on Tuesday night when Rosemary Ketchum was elected to the Wheeling, WV City Council by a mere 15 votes for the open Ward 3 seat. Incumbent councilmember Melinda Koslik declined to run for reelection
She defeated three other candidates. including second place finisher Peggy Niebergall to take the open seat, running on a platform to address affordable housing and opioid addiction. She was also supported by the LGBTQ Victory Fund.
"I am incredibly grateful to get the opportunity to represent my city," Ketchum said in a statement to CNN. "I hope that this election helps us push the needle in West Virginia so that we can fully embrace the power of culture, diversity, and representation in politics. I ran for office because I believe the job of an elected official is to reflect the values of their community in the actions of their leadership and that is why I am excited to serve."
The win made the 26 year old Ketchum the first out trans person in West Virginia and only the fourth TBLGQ person to hold public office in the state.
Ketchum is the associate director of NAMI of Greater Wheeling, an affiliate of the National Alliance on Mental Illness. She
has lived in Wheeling for over a decade, served on the board of ACLU West Virginia and is a member of Wheeling's Human Rights Commission.
Councilmember-elect Ketchum hopes that her election will be a big moment that opens eyes and hearts in West Virginia and the nation when it comes to transgender people
"I think trans people know they are capable of doing things like running for office and being elected. But I think it's much more important for the cisgender community, people who are not trans, to see that diversity is important and possible," Ketchum said.
With the win, she joins a small but growing pool of 27 trans elected officials in the United States and takes office on July 1.
Congratulations Councilmember -elect Ketchum! Here's hoping that this is just the start of more amazing things in store for you, and that you'll be reelected to that seat when your term is up.