It's the 'Williams'-don semifinals, and Serena Williams was going for her 8th Wimbledon ladies final appearance against a foe in Maria Sharapova who hasn't beaten her since 2004.
And she wouldn't do it today either.
Williams and Sharapova were meeting for the 20th time, and Serena has owned her with a 17-2 record in their head to head meetings.
Make that 18-2. Serena beat her for the 17th straight time since that shocking 2004 straight set Wimbledon finals loss,. Little Sis was on her A+ game and made quick (1:19) 6-2. 6-4 straight set work of Sharapova to get to her 8th Wimbledon final, the 25th Grand Slam final of her career and win her 26th straight Grand Slam match.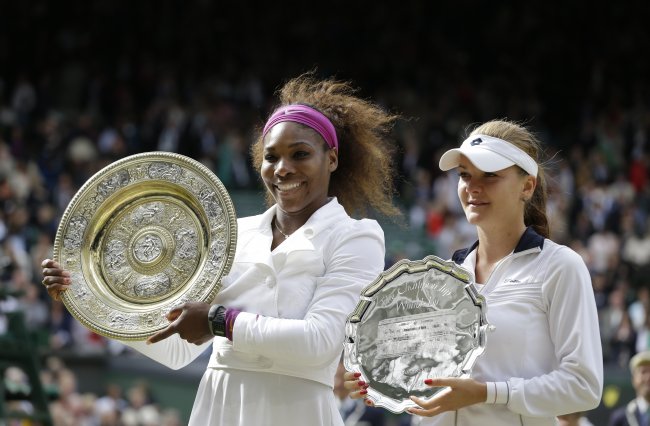 The win over Sharapova keeps her quest alive for a Serena Slam. This will be if she wins Saturday in addition to her sixth Wimbledon ladies singles title, her fourth straight Grand Slam title since she captured the 2014 US Open. With a win Saturday at Centre Court Serena will also set up a chance to accomplish a calendar year Grand Slam at the US Open and tie Steffi Graf with 22 Grand Slam wins.
How you like her now haters? Here's some strawberries and cream flavored Haterade for you to drink. Hater tots will be coming soon for you to munch on.
She will face 21 year old Garbine Muguruza of Spain, who knocked off 2012 Wimbledon finalist Agnieszka Radwanska 6-2.3-6, 6-3 to become the first Spanish woman since Arantxa Sanchez Vicario did so in 1996 to advance to the Wimbledon final.
And you can bet Serena won't be sleeping on Muguruza. If that name sounds familiar to you, it was none other than Muguruza who upset Serena in the second round of the French Open last year.
While Muguruza is capable of doing it, she'll probably get a Serena who is on her A+ game, remembers what happened last year. at Roland Garros and is ready to atone for it..
But unfortunately for Muguruza, this ain't Roland Garros, it's the All-England Club, the Williams sisters personal tennis playground.
Should be fun to watch this tennis history unfold for the greatest tennis player of all time as she attempts to win her sixth 'Williams'-don ladies singles title and another Venus Rosewater Dish for her trophy collection.
I also love the fact she's on the verge of doing so 40 years after Arthur Ashe won his Wimbledon title.