Everyone from Jim Bakker to TX Gov Greg Abbott to Transphobic Boy George tried their best to get this week's TransGriot Shut Up Fool honors,
But this week's winners are the
NAACP Image Awards
POSE
was snubbed for awards last year. Janet Mock, who is a writer and producer for this show, called them out for their BS with this comment on Twitter.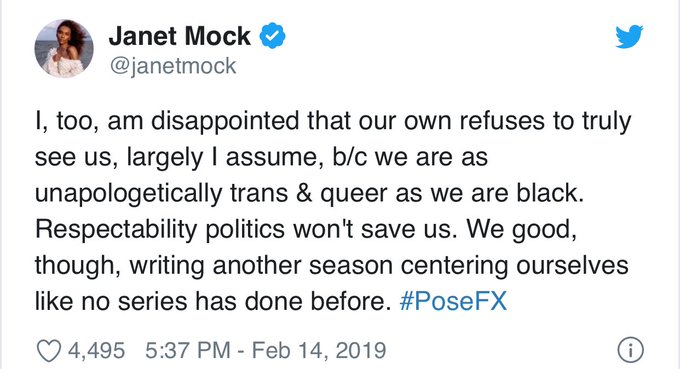 Well said Janet. You would think that in a year in which the NAACP
passed a resolution
mandating that NAACP chapters support and defend the humanity and human rights of Black trans people, that the Image Awards peeps would have gotten the message.
But it seems they didn't./ This year they left no doubt that the NAACP Image Awards has a transphobia problem
Outstanding Actor in a Drama Series
frankly because his talents are undeniable, but MJ Rodriguez, Indya Moore, Angelica Ross, Dominique Jackson, and the
POSE
show got ZERO nominations.
POSE
episodes.
No nomination for
POSE
in the
Outstanding Drama Series
category either but Meghan McCain's problematic azz gets one for
The View
?
Really Image Awards? .You need Jesus and to solve your obvious transphobia problem.
NAACP Image Awards, shut up fools!