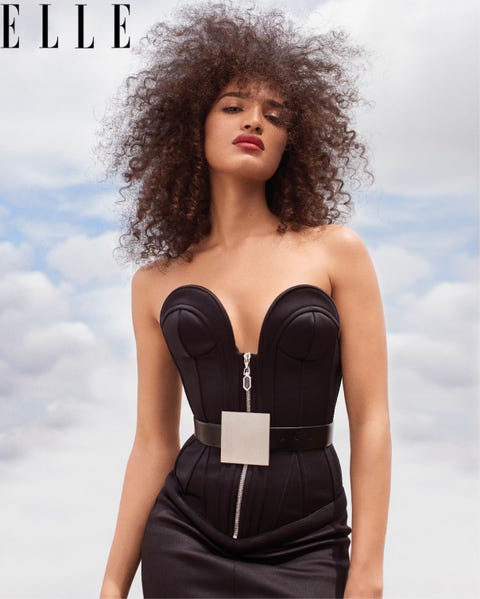 One of my jobs as a trans elder and leader with 21 years in the trans rights movement is to unapologetically speak truth to power., even to loud and wrong people in my own community
Tweaking a famous Malcolm X quote. "The most disrespected woman in America is the Black trans woman. The most unprotected woman in America is the Black trans woman. The most neglected woman in America is the Black trans woman."
View Tweet ativity
I re
I recently posted a comment on my Twitter and Facebook feeds on the morning of May 9 that remixed the famous Malcolm X statement about Black women by simply inserting the word 'trans' in it.
Seems that Indya Moore in the wake of me posting that Twitter and Facebook comment, posted this problematic one on her social media.
Nope sibling, you're mistaken, and as a longtime leader and award winning writer, time for me to drop the receipts backing up what I posted on my social media. I'm a huge fan of POSE, and already have my calendar marked for the June 11 premiere of Season 2 of the show.
And before I get started, if you want to know who I am, Google my name, become one of my 16.5K followers on Twitter or ask your POSE producer Janet Mock.
Who I am Mx Moore in addition to being unapologetically Black and trans, is the person who has been tracking the murders of Black trans women for much of the 13 year history of my GLAAD award winning blog. That's more than half of your entire lifespan on planet Earth.
Last year
there were 25 trans people killed in the US
. Of those 25 people, 19 of them were Black. 18 of those 19 Black people killed were Black trans women. Only one was trans/GNC and it's still a question mark about whether Nino Fortson actually identified that way.
I just recently returned from my fifth trip to my state capitol of Austin to testify in favor of HB 1513, a bill that would add gender identity and expression to our Texas James Byrd Hate Crimes Act. That testimony in favor of the bill happened mere days after two Black transpeople, Muhlaysia Booker and Keir Rice were assaulted in Dallas and Killeen, TX respectively five days apart.
The reason I made that trip is because back in the 1999 and 2001 Texas legislative sessions when I was a rookie activist and this bill was proposed, trans people were cut out of it.
Trans people being cut out of human rights legislation they needed to be included in was a sad and sorry part of the 'incremental progress' legislative mantra that lesbian and gay led orgs practiced in the late 20th- early 21st century. While that's starting to change, sometimes the old habits because of internalized TBLGQ community transphobia still die hard.
But the damage that has been done to trans people because of the incremental progress strategy is real. 34 states can fire you just for being trans. We have people in the Black cis community who visit violence upon us because they believe they won't be severely punished for it.
GENDA just got passed in New York after a 15+ year battle precipitated by the fact that trans folks were cut out of the SONDA bill in violation of a deathbed promise made to Sylvia Rivera in 2005 that cutting trans people out of the legislation wouldn't happen
We just had another Black trans woman shot in suburban Memphis on Thursday. Back in January in my Houston hometown, I had a Black trans woman shot at point blank range three times in broad daylight at a gas station that is a mile from the part of Houston where I live.
And don't even get me started talking about
Black trans women being banned
from joining Zeta Phi Beta, a Divine Nine sorority, or the anti-trans agenda of the Trump misadministration aimed squarely at trans folks that will disproportionately impact trans people of color, and especially Black trans women.
Indya, there is overwhelming evidence that what I said in the remix of Brother Malcolm's statement is undeniably true in the Black trans woman being the most disrespected, most unprotected and most marginalized woman in America|
And I will sadly always be able to pull out receipts from multiple sources to back that statement up.
And yet, still we Black trans women rise to accomplish tremendous things for themselves and our Black community.
I am unapologetic about naming and claiming myself as a Black trans woman. While I realize that the Black trans community is not monolithic in its thinking, I am aware there are elements of it that push the narrative that GNC-non binary folks are people who wish to be trendy or they are ashamed to claim the trans label.
Some Black trans peeps are asserting that GNC-non binary peeps are simply claiming trans status in order to elevate themselves at the expense of the trans folks who have been fighting in the movement trenches for over 60 years to have our humanity and human rights recognized.
While I personally reject that problematic line of thinking, it's still out there in elements of the community, and comments like the one you posted don't help that situation.
Mx Moore, you have the potential to become a leader in our community. You have a platform provided by your visibility as a breakout star on POSE to reach millions. But with that platform comes great responsibility, and one of those responsibilities is not putting out problematic social media statements that can be easily debunked.
You also as a social media influencer also have to be careful about the words you write, tweet or post
It's your call as to what evolutionary next steps you decide to take or decide what type of a leader you wish to be.
But Indya, Black trans women are exactly what I said they were in my May 9 statement, and it's up to all of us to do the work necessary to change that current paradigm. .