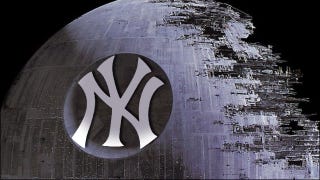 This 2017 season has been a dream one for Astros fans. Winning the AL West title for the first time. Winning 101 games, and knocking off the Boston Red Sox in the ALDS and the New York
Skankees
Yankees in the ALCS to become the first modern day MLB team to win the National and American League pennant.
As an Astros fan, winning our first American League title against the Yankees was especially satisfying after all the smack they talked when they were playing the middle three games of the ALCS in New York and grabbed a 3-2 series lead after being silent when we were spanking that azz in Houston.
As I love to say, the best Yankees fans are silent ones. How you like us now New York?
Now that we have vanquished the Evil Baseball Empire, the American League champions can now turn their attention to battling an old NL West foe in the Los Angeles Dodgers in the 2017 World Series.
The Dodgers won 105 games and sent the Washington Nationals and defending MLB champion Chicago Cubs to the sidelines enroute to capturing their first National League pennant since 1988.
From 1969 -1994 the Astros played in the NL West division with them until the move to the NL Central as a result of baseball expansion that added the Colorado Rockies, Miami Marlins, Arizona Diamondbacks and the AL's Tampa Bay Rays to the league.
During that time there was no love lost between the Astros and Dodgers. We won a one game playoff in 1980 to capture our first NL West crown, and lost to them in the NLDS in the strike shortened 1981 season
So it won't take us long to get our hate on for the Dodgers. Hopefully the Astros bats have finally awakened from their near fatal nap in New York and they can make the bold Sports Illustrated cover predicting their World Series triumph this season become a reality
We long suffering Houston sports fans would sure love for that to happen.
Beat LA! Beat LA!