In case you're wondering how my British sis via Nigeria Miss SaHHara fared in the just concluded
Miss Trans Star International
pageant in Barcelona, she ended up placing in the top 5 finalists for it.
But along the way to her top 5 finish in Spain, she also shed light on the horrific way that Nigeria treats trans folks like herself and same gender loving people there by jailing them for up to 14 years.
She dealt with imprisonment, anti-trans street harassment. two suicide attempts and transphobic bullying from her family in her native Nigeria before leaving for London in 2004. She is a singer-songwriter, model and the founding director of the
TransValid
NGO.
"There is no way I could have survived in Nigeria. That is why I had to leave."
After arriving in London, she performed at Madam Jojo's Kitsch Cafe until it closed in November 2014, earned a master's degree in digital media from London Metropolitan University, has walked the runways of London Fashion Week in addition to competing in trans beauty pageants around the globe.
Along the way Miss SaHHara is becoming an internationally recognized voice when it comes to eloquently discussing gender identity issues and as she has said, 'being a voice for the voiceless in Nigeria'.
Nigeria's loss of her talents and intellect because of their transphobic idiocy is Great Britain's gain.
"London gave me my opportunity to pursue my dreams and be my true self." Miss SaHHara said in an interview. "I'm hoping that by speaking out and coming to Miss Star, I will try to influence people or perhaps my government to revoke 14 years of imprisonment for LGBT people in Nigeria."
Miss Brazil Rafaela Manfrini was crowned Miss Trans Star International 2016. Ta'alin Abu Hanna of Israel
was first runner up
.
As for what's next for Miss SaHHara? Stay tuned.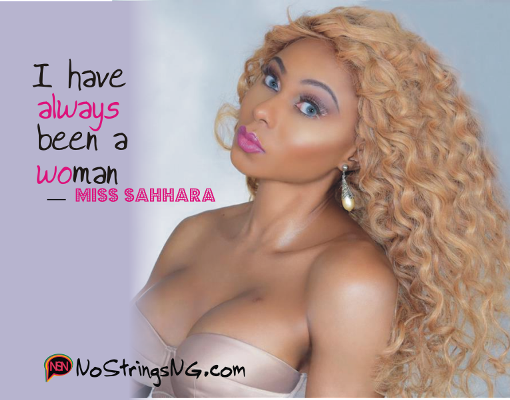 I have no doubt that whatever this talented woman puts her mind to accomplishing, she will achieve it.