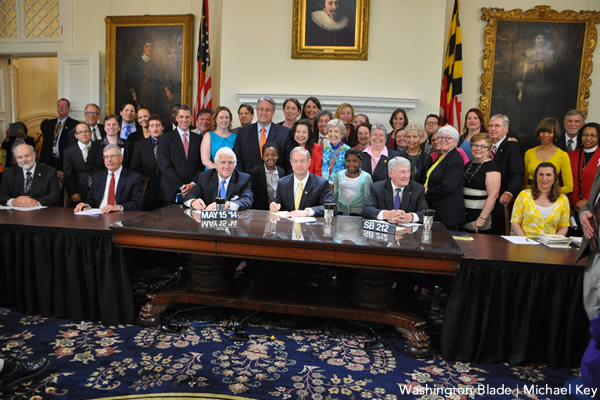 As I keep reminding folks here in the wake of the passage of our HERO, passing the human rights law is the easy part.
Now we have to defend it.
The trans community in Maryland saw the fulfillment of a human rights dream of their own when Gov Martin O'Malley (D)
signed the Fairness For All Marylanders Act into law
on May 15.
SB 212 passed
by a lopsided 32-15 margin
in the Maryland Senate and
an 82-57 margin
in the Maryland House back in March, and has the support of 71% of Marylanders.
But the predominately Republican opposition to the Fairness For All Marylanders Act predictably decided to attempt to get at the ballot box what it couldn't accomplish in the legislature.
A hate coalition led by Maryland Del. Neil Parrott (R-Washington County) started an effort to collect the 55,737 signatures needed to force a repeal referendum vote on the midterm election ballot in November on the trans rights law. The signatures needed to be collected by the initial May 31 deadline date to continue the process to June 30, but as of the initial deadline date the opponents had only collected 17,500 signatures.
Translation: The GOP led repeal effort fails, and the law will take effect on October 1. So Maryland trans community and our allies, you know who to punish at the polls on November 4.
On that glorious October 1 date Maryland will become the 18th state plus the District of Columbia and Puerto Rico that bans discrimination against its trans citizens.
Good, because the expansion of human rights for a marginalized group is something that should never be subject to a majority vote.