203 of FIFA's 208 member nations started playing matches on June 15, 2011 in order to earn one of the 32 spots in the 2014 World Cup tournament. After two years of qualifying matches played around the globe that ended November 23, we now know the 32 nations that qualified to go to Brazil and play in the 2014 FIFA World Cup.
For the seventh consecutive qualifying cycle the USA is amongst those 32 nations along with defending champion Spain.
What we don't know besides the host Brazilians are in Group A is which one of the eight groups they and the other 30 nations will be playing the opening round of games in from June 12-June 26.
On Friday the soccer world's millions of fans will turn their eyes toward Bahia as FIFA conducts the World Cup Final Draw at 1 PM local Bahia time (11 AM Houston time) to set up those eight groups as the world holds its breath to see the results, then pontificate on them once they are announced.
The 32 teams will be divided into four Pots, with Pot 1 containing the host Brazilians and the top seven seeded teams according to the
October 2013 FIFA world rankings
. Those top seven teams in order are Spain, Germany, Argentina, Colombia, Belgium, Uruguay and Switzerland. The Pot 1 seeding carries a huge advantage in that you don't have to play the other seven seeded teams in the group stage.
Pot 2 is comprised of the CONCACAF teams (USA, Mexico, Costa Rica and Honduras) plus the four AFC Asian qualifiers (Japan, Iran, South Korea and Australia).
Pot 3 will be made up of the five CAF African teams (Cote d'Ivoire, Ghana, Algeria, Nigeria and Cameroon), two from the South American CONMEBOL federation (Chile and Ecuador) and the lowest-ranked UEFA European country, France.
Pot 4 is comprised of the remaining eight UEFA European nations (Netherlands, Italy, England, Portugal, Greece, Bosnia-Herzegovina, Croatia and Russia)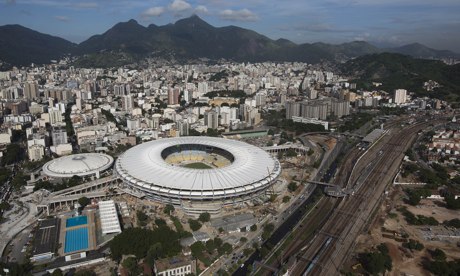 The draw will be conducted based on a format to be decided upon no later than tomorrow. and as the groups are assembled not more than two European nations will be allowed in any of the eight groups.
The draw is critical to your chances of advancing in the tournament final at Maracanã Stadium since only the top two teams in each group advance to the knockout rounds and the composition of teams in that four team group is determined by it.
So we'll find out how the final group compositions and the paths of those teams to the July 13 final shake out on Friday.