Well peeps, y'all know I have much love for multimedia personality Tyra Lynne Banks, who is having a milestone birthday today. She was born on this date in Inglewood, CA in 1973.
She first became know for her history making and lucrative modeling career that started in 1991. Banks not only ripped the runways for Chanel, Valentino and Fendi among others, but was featured in advertising campaigns for Dolce & Gabbana, Yves St. Laurent, Nike and Ralph Lauren.
She became the first African-American model to appear on the covers of
GQ
, the
Sports Illustrated
swimsuit issue twice (1996-1997 solo), and in 1997 the Victoria's Secret catalog. She was also one of the original Victoria's Secret Angels from 1997-2005.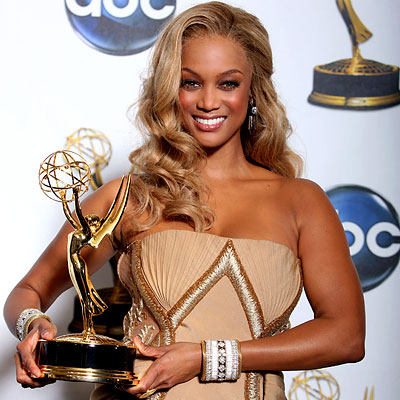 She has acted in television shows, done several movies, music videos, and currently produces and hosts
America's Next Top Model
. From 2005 to 2010 she produced
The
Tyra Banks Show,
a talk show geared toward an audience of 18-35 year old women that won a Daytime Emmy in 2008.
Tyra is also a published author, releasing the novel
Modelland
in September 2011 that hit the New York Times Best Seller List in October 2011. She co-authored another book that's on my shelf today called
Tyra's Beauty, Inside and Out.
One of the reasons I love Ms. Banks so much is that at the time I started my transition, I was still having issues about my height. Tyra's blossoming modeling career taking off at the same time I was starting to go through my metamorphosis was a factor in helping me getting over my height issues and deal with the reality there are sistahs who are not only my height but taller.
And it was nice to know that one of the people I observed and liked as a feminine role model was not only as down to earth as she appeared to be, but also was a supporter and ally of the trans community.
She put her money behind her support when she helped a trans sister out who I have had the pleasure of getting to know in Isis.
So now that Tyra's hit another milestone birthday, is still looking fabulous and handling her business, what's next for our birthday girl?
Going to be interesting to see how this next decade of her life shapes up and if she can top what she has spectacularly accomplished in her 20's and 30's.
Happy milestone birthday Tyra! May you have many more.